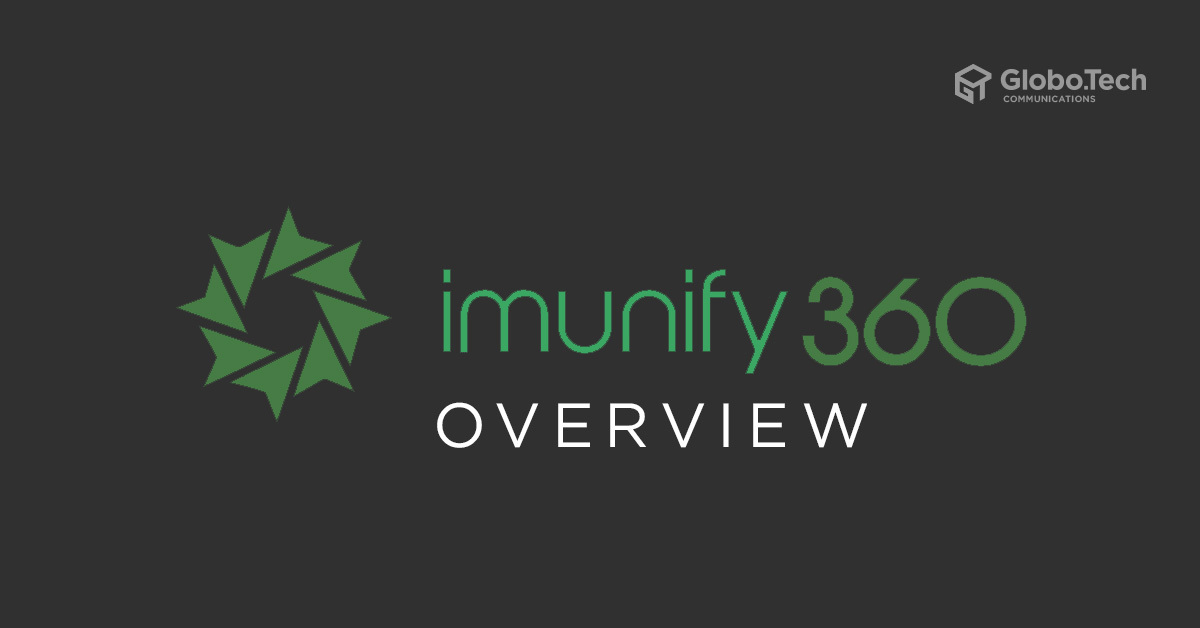 Overview
Imunify360 is a product developed by CloudLinux — a renowned maker of reliable and secure OS to exist in web hosting. It is designed to protect Linux web servers in the most efficient way. Learn more about Imunify360 trough this overview.
With a modular and integrated configuration, Imunify360 helps organizations provide a reliable, secure and profitable web hosting service. Not just that, it can also scale with your requirements. It has a multi-layer defense architecture that seamlessly targets and eradicates viruses and malware, both known and unknown.
Powered by Proactive Defense and AI
Imunify 360 uses various integrated technologies to block attacks, such as:
Signature matching
Real-time behavior analysis to block malware
Herd immunity driven by insights gathered from servers across the globe
Imunify360 uses a hi-tech security system that will gather and process huge amounts of data and insights regarding new attacks from servers across the globe. It analyzes your website traffic and even the web application scripts to keep track of all real-time security threats.
Apart from this, Imunify360 uses a robust AI technology to effectively update the rules, so as to prevent potential attacks. Machine-learning technology and comprehensive algorithms further help to identify abnormal behavior patterns to prevent new malicious attacks beforehand.
The 'Proactive Defense' feature prevents zero-day virus and malware attacks, even those that most scanners won't detect.
When anyone violates the security rules of Imunify360, it will automatically block the IP-address, restrict their access and add it to the Gray List.
If the user in Gray List tries to access the HTTP/S port, the CAPTCHA will appear. If the user enters the correct CAPTCHA, they will be removed from the Gray List. But if the user violates the rules repeatedly, they will automatically be added to the Gray List again.
Admin can remove any user from the Gray List and even add them to the White List. Users in White List won't be blocked while violating the security rules.
Key Features Overview of Imunify360
Imunify360 is an excellent security solution for all Linux web servers, as it is built upon machine learning technology. It uses a multi-layer approach to detect abnormal behavior and prevent malicious attacks, even the distributed brute force attacks at HTTP and network levels.
Here are a few crucial features of Imunify360:
Advanced firewall:
Advanced firewall together with AI and herd immunity is able to protect all servers that run the software and detect new potential attacks, even DoS (denial of service) attacks, brute force attacks and port scans.
The firewall integrates with mod_security web application firewalls for enhanced security. With WAF, it can further prevent major web application attacks, even before they occur.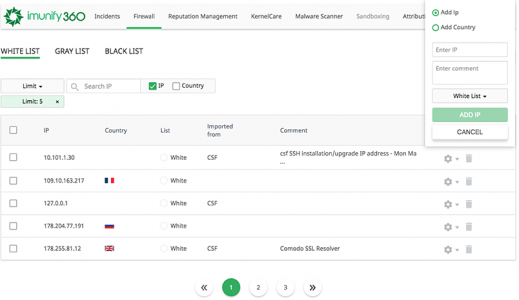 Centralized Incident Management:
A central dashboard is accessible right through your control panel, so you can quickly check the status of your server and handle all of its security aspects.
Every 60 seconds, the central dashboard updates the latest incidents and security actions. Here you can manage black list and white list settings, view reports, filter incidents based on various parameters, review them and much more.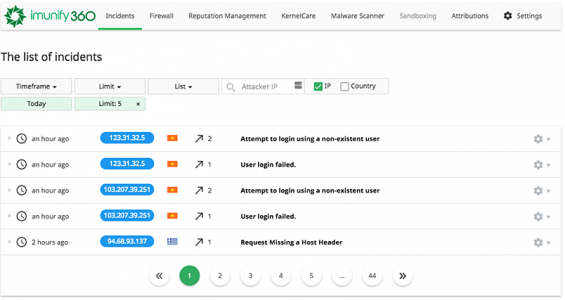 Malware Scanning:
It automatically scans file systems to target malware and quarantine the infected files.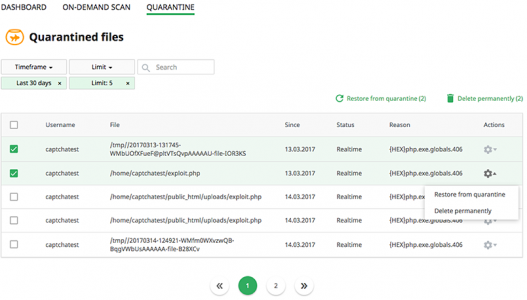 IDS and IPS (Intrusion Detection and Protection System):
Remote exploit is one of the major challenges faced by hosting providers today for their customers' web servers.
Imunify360's IPS feature uses an extensive set of "deny" policy rules that help in blocking known malicious attacks, specifically those that use a popular exploit tool. The IDS provides exceptional insights into server security by keeping track of server logs. It thoroughly scans log files and bans IP addresses that show abnormal signs such as potential exploits, password failures, etc. The IPS and IDS protects you from outside in and inside out.
Website Reputation Monitoring:
The reputation of your website holds great importance and getting blacklisted can be devastating for your business. This feature analyzes whether your domains are blacklisted or blocked, and pops notifications about the same.
Patch Management:
Rebootless Secure Kernel powered by KernelCare automatically patches kernels to keep the server secure, and this does NOT even require server rebooting. It checks for new patches every 4 hours and automatically employs them to the running server to avoid disastrous incidents.
Proactive Defense:
'Proactive Defense' prevents PHP websites from 0-day attacks. All of this is done by identifying attacks in real-time on your Linux web servers and then blocking potential malicious executions and unknown malware, that too with zero latency.
Proactive Defense works uniquely in identifying security risks, as it analyzes the web application scripts instead of the code.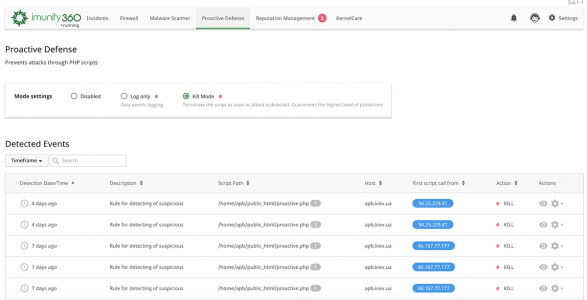 Rapid Scan:
It allows you to boost the scanning speed by reducing the system resource usage. Thus, you can scan more often without affecting the system's performance and aim for a powerful security posture.
Rapid Scan feature uses various innovative techniques such as efficient cloud-driven scanning, fast file integrity checking and optimized malware signature database.
Low resource usage mode:
This one is a unique operation mode where Imunify360 eats up less RAM and CPU, ideal for servers with limited resources.
Hardened PHP:
It is the component that secures your web server by patching all PHP versions, even older ones against known vulnerabilities. Due to this, you can run any PHP version without the need to accommodate new versions.
Key Benefits Overview of Imunify360
Imunify360 protects your servers, and it is extremely easy to set up and use.
It allows you to check the overall status of your server right from the integrated console within your hosting control panel. It supports cPanel, DirectAdmin and plesk control panels.
Fully automated operation causes no human error and keeps your servers secure at all times.
AI-powered "herd protection" collects and leverages thread intelligence reports from all servers around the world.
Uses powerful CLI for automation and reporting
Continuously analyzes scripts and identifies abnormal behavior in real-time.
Provides top-class 24/7 technical support
Wrap Up
With cyber-attacks becoming more and more prevalent today, employing a powerful and robust security solution is the need of the hour. It is extremely important to protect your web servers, websites and web applications altogether from malicious attacks.
Hope this overview of Imunify360 helps you understand the features and benefits of this powerful next-generation security solution. Anyone who is serious about Linux web server security must go for this one!